Date
Thu 02 - Tue 07 July, 2020
Price
£2900 per car (2 people)
The event is a 2000 mile, 6-day road tour that travels to Lake Lucerne, the San Bernardino Pass, the Umbrail Pass, the Stelvio Pass, the Bormio Pass, Innsbruck, the Grossglockner Pass, Villach, the Austrian F1 GP at the Red Bull Ring, Salzburg and the Nürburgring. All cars are welcome.
A £500 deposit can be paid online. The balance is due by Friday the 8th of May.
All Circuit Days Tour returnees qualify for a £100 discount from the final balance.
What's Included
Return Eurotunnel crossings
5 nights' luxury accommodation
Buffet breakfasts
Guide to the best driving roads in the Alps
Tickets to the Austrian F1 GP
Lap pass for the Nürburgring
Dinner at Nürburgring
Track day in the UK
All for 2 people
Itinerary
Thursday
Folkestone - Calais - Lake Lucerne
Accommodation - Schloss Golden Gate, Lake Lucerne
Friday
Lake Lucerne - San Bernardino Pass - Umbrail Pass - Stelvio Pass - Bormio Pass - Innsbruck
Accommodation - Adlers Hotel, Innsbruck
Saturday
Innsbruck - Grossglockner Pass - Villach
Accommodation - Hotel Karawankenhof, Villach
Sunday
Villach - Red Bull Ring - Salzburg
Accommodation - Cool Mama Hotel, Salzburg
Monday
Salzburg - Nürburgring
Accommodation - Lindner Congress, Nürburgring
Tuesday
Nürburgring - Calais - Folkestone
Please email chris@circuit-days.co.uk should you require any additional information.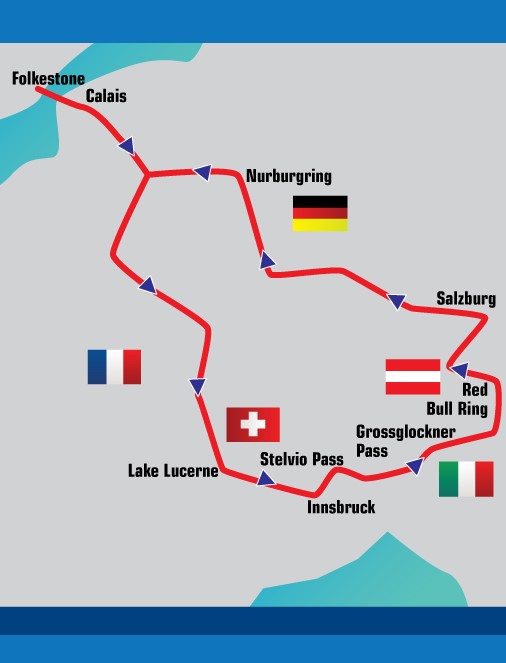 Book Now
Tours History »