Date
Fri 16 - Tue 20 June, 2017
Price
£2500 per car (2 people)
The 10th running of the iconic Circuit Days Alpine Adventure!
The event is a 1500 mile, 5 day road tour that travels to Lake Lucerne, the San Bernardino Pass, the Julier Pass, St Moritz, the Umbrail Pass, the Stelvio Pass, the Bormio Pass, Lake Como, Monaco, the Col de Turini and the Route Napoleon, along the way staying in only the finest luxury hotels and chateau mansions. All cars are welcome.
What's Included
Return Eurotunnel crossings
4 nights luxury accommodation
Buffet breakfasts
Guide to the best driving roads in the Alps
Completion of event group dinner at Challes-les-Eaux
Reunion track day in the UK
All for 2 people
All Circuit Days Road Tour returnees qualify for a £100 discount from this final payment.
Itinerary
Friday
Ashford - Folkestone - Calais - Lake Lucerne
Accommodation - Schloss Golden Gate, Lake Lucerne
Saturday
Lake Lucerne - San Bernardino Pass - Julier Pass - St Moritz - Umbrail Pass - Stelvio Pass - Bormio Pass - St Moritz
Accommodation - Kempinski Grand Hotel des Bains, St Moritz
Sunday
St Moritz - Lake Como - Monaco
Accommodation - Fairmont Monte Carlo, Monaco
Monday
Monaco - Col de Turini - Route Napoleon - Challes-les-Eaux
Accommodation - Chateau Comtes, Challes-les-Eaux
Tuesday
Challes-les-Eaux - Calais - Folkestone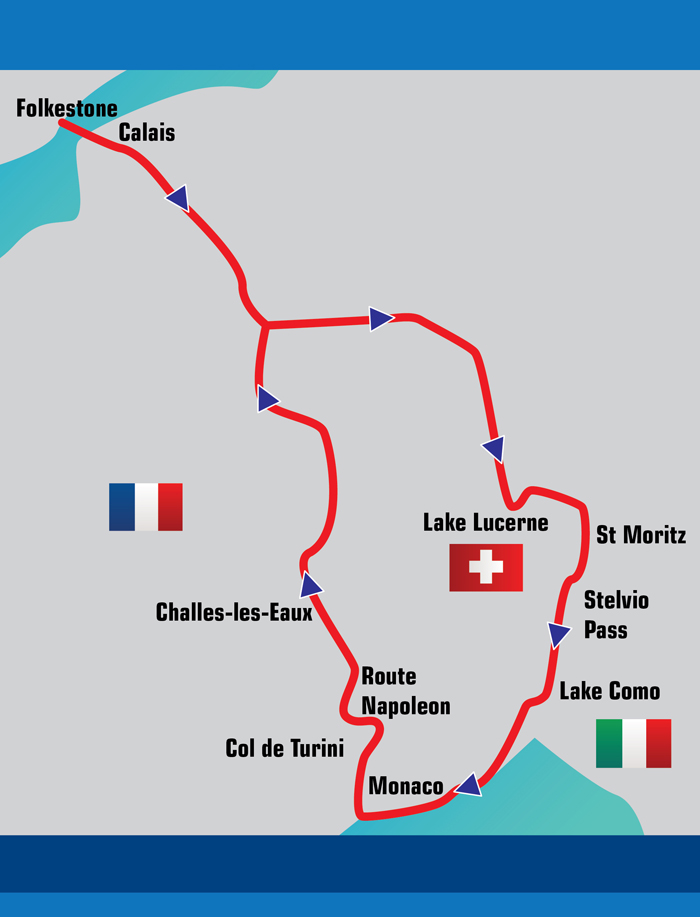 Book Now
Tours History »